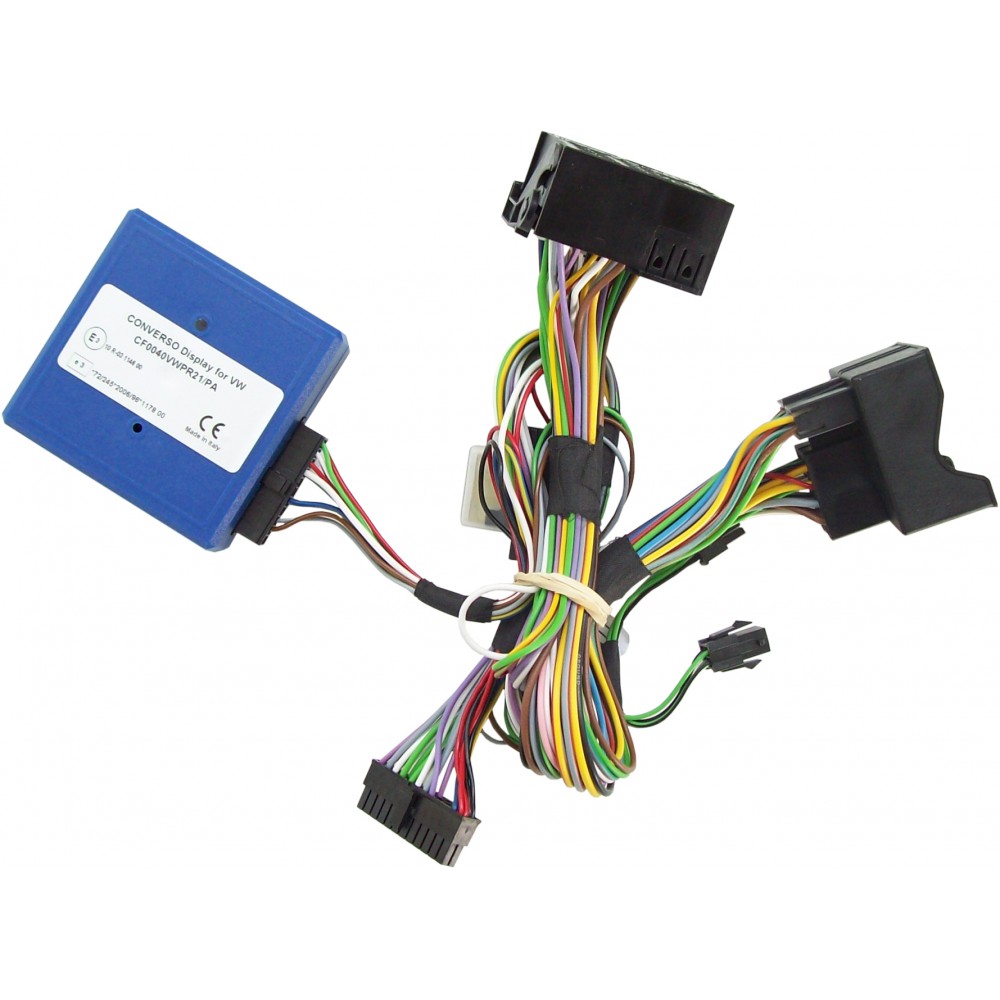 Converso Display

Overview
CONVERSO DISPLAY is a multiprotocol interface able to connect OEM car  steering wheel  controls to  any Parrot hands  free kit, MKi series.Therefore all Parrot hands  free  kit system functions will b...
CONVERSO DISPLAY is a multiprotocol interface able to connect OEM car steering wheel controls to any Parrot hands free kit, MKi series.
Therefore all Parrot hands free kit system functions will be handy!
Thanks to CONVERSO DISPLAY you can easily manage your music and your phone whenever you want, visualizing on your original car display all Parrot hands free kit information like:
menu items
caller phone number
caller name
etc.
lndipendently of steering wheel controls configuration, CONVERSO DISPLAY enables all Parrot handsfree kit system functions by following a specific keys sequence.
CONVERSO DISPLAY can be upgraded!
Power Supply
Operative Voltage
10/16 VDC

Consumption in sleep mode
0,001 A

Consumption in working mode
0,040 A

Protocols Available
Car Protocols
CANBUS
Services and functions
Services Outputs
Positive ignition

reverse gear

speedpulse

handbrake

lights
Amplifier Recover
Yes
On Board Computer control
Yes
Parking Sensors Recover
No
Phone Buttons Recover
Yes
Upgrading
Updatable Product
Yes
Requested Updater
Paser Serial Updater
Compatible Products
Parrot Products Compatible
MKi9000

MKi9100

MKi9200

RKi8400

Skoda
Although Paser tries to keep the information on its website constantly updated, no guarantees are given about car compatibility due to they can have equipment or electrical system different from tested by us.
Octavia II (MK2)>

2008-2012

Steering Wheel Commands

Positive Ignition

Phone Button

Notes and Warnings

Plug&Play Cable

Superb (B6, Typ 3T)>

2008-2013

Steering Wheel Commands

Positive Ignition

Phone Button

Notes and Warnings

Plug&Play Cable

Superb (B6, Typ 3T Re)>

2013-2015

Steering Wheel Commands

Positive Ignition

Phone Button

Notes and Warnings

Plug&Play Cable

Superb (B8, Typ 3V)>

2015-2018

Steering Wheel Commands